Venue: Blackroom
Location: Semarang, Indonesia
Manufacturers: Lights Professional, Indonesia / MADRIX, Germany
Distributors: NewVision Technology, Taiwan
Installers: Hanny Harijanto, Lights Professional, Indonesia
Architects: Bumi Wiratama, Indonesia
Lighting / Visual Designers: Hanny Harijanto, Lights Professional, Indonesia
Acousticians: Bumi Wiratama, Indonesia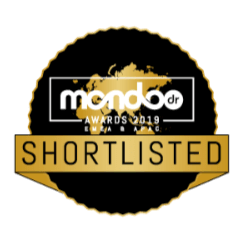 Blackroom was voted one of the top 4 nightclub projects of the MONDO-DR Awards 2019.
After 13 years in business, Entertainment Plaza, as venue used to be called, was up for renovation. In fact, a complete makeover was necessary. Merely 4 moving heads and a 1-m mirror ball were simply not enough anymore. The venue had to become much more appealing. Under new management, the new owner and lighting designer Hanny Harijanto went out to see the behaviour of party goers and what other clubs offered in the dynamic city of Semarang on Java. Still, time was of the essence. A grace period of only 2 months was granted before the grand re-opening.
The new name suggests what was about to happen. With 16 meters by 16 meters, the venue is perfectly square-shaped: a (perfect) room. In addition and since a creative concept was needed quickly, the idea was born to paint it entirely black: Blackroom. The color was deliberately chosen. It would enhance the lighting design, bring out the colors, and make them dominate the room.
Since the venue is a square, this concept was transformed into reflective 3D light cubes on the ceiling for the main lighting design. Customized 2.7-cm LED pixels with milky covers and a rock-solid MADRIX lighting control system were the key to make this happen.
With strong 3D effects, soft colors, and lighting reflections that gradually bounce off from the black panels, the new owner couldn't be happier with this unique design.
We only had 10 days to finish the installation and to set up all the lights. Hence, time was critical.
Blackroom really became a trend setter in the city of Semarang. Personally, as a lighting designer, I'm falling in love with this stunning 3D cube effect again and again. It was amazing to blend the colors as the reflections of the LEDs onto the black matte panels create extraordinary effects. It almost becomes a work of art.